Used Bus Sales
Coach Buses, Trolleys & Mini buses
Sawyers Bus Sales & Conversions offers affordable buses to transport large groups and is therefore your used bus for sale solution! Our wide variety of used buses satisfies the needs of your bus company, traveling church group or sports team so you can be on your way in comfort. In other words, Sawyers Bus Sales & Conversions is who you think of for high quality buses at the lowest price.
CALL: 540-394-8000 EMAIL: [email protected]
Available bus types: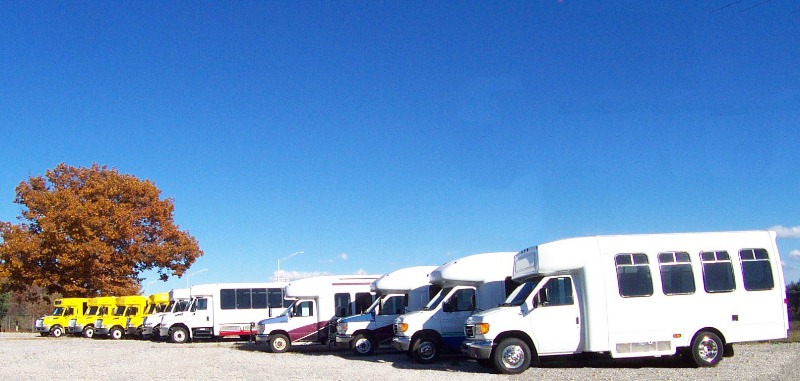 We have buses for sale that seat from 12 to 58 passengers so we will have the bus-for-sale that works perfectly for your logistical seating requirements. Our mini buses have room for 12 – 15 travelers therefore you will be under the CDL passenger requirement. We offer mid-size buses at 38-40 passenger capacities you can view here https://sawyersbussales.com/temsa/. Our larger buses seat 56 – 57 passengers, therefore providing large group travel capability. We consistently provide the sales & service know-how to keep the final bus cost low so you have more funds in your pocket.* Call or email us today for pricing information or view the pricing on our website. (*Virginia dealer processing fee of $150.00 applies to each bus purchase.)
---
We carry used coach buses and used mini buses from all the best bus brands including:
MCI J4500 & EL3 buses
Prevost H3-45 & X3-45 buses
Van Hool C2045 buses
Temsa TS35 Mid-size Buses
Ford & Chevrolet Mini Buses
Trolleys
Whether your bus needs are basic or VIP, we have the right bus for you. Our friendly staff will work closely with you to determine which of our wide variety of used buses best suits your particular style preferences and then make applicable bus design suggestions.
Sawyers Bus Sales & Conversions offers service after the sale
For nearly 40 years Sawyers Bus Sales has provided top-notch used buses for sale to the Christiansburg, VA community as well as bus sales nation-wide . We are committed to serving each and every of our customers as if they were our own family because we care.
---
As a family-owned-and-operated business we know about family and as a result have an excellent reputation for a comfortable service experience. Family is central to our work environment and is, above all, why we prioritize stellar customer service. Come visit our bus team today so you too can enjoy a non-hassle buying experience.
---
While a used bus may satisfy most of your logistical needs, we understand that you may have specific bus conversion requirements. Because of this, we also refurbish and customize bus conversions to ensure that we have the vehicle that you need for every bus application. View our bus conversions page for a taste of where to start in your bus conversion journey.
---
Call Sawyers Bus Sales today at 540-394-8000 for information concerning our wide selection of used buses for sale and find out what we can do to help you into the ideal bus today.​​ We also look forward to speaking with you in person, kicking tires, and determining together how we can turn your bus dreams into reality.

Our Mission:
​​​THE MISSION OF SAWYERS BUS SALES & CONVERSIONS:
"To offer the highest quality coach and mini buses, therefore, providing our customers with the ideal bus for their transportation needs." Howard Sawyers – Pres./CEO
For 30 years we have been providing our clients the best quality buses and, as a result, gained their satisfaction. Consequently, customers have shown their appreciation by coming back to us repeatedly. As a family-run company we provide a no-pressure buying experience and therefore top-notch customer service after the sale.
---
Whether your tour or charter company, college or sports team prefer MCI, Prevost or Van Hool coach buses, we're Virginia's Bus Superstore for a plentiful bus selection at the lowest price. We also offer Ford, Chevy and IC Mini shuttle buses. We provide church buses, daycare buses, assisted-living facilities buses and sports team buses to get you to your next destination in style.
Mechanical Expertise
​​​​Our trained technicians are here to help you before, throughout and after your bus purchase. Therefore, you can depend on us to provide the service and mechanical expertise we ourselves expect when purchasing a bus.
Why Choose Sawyers Bus Sales & Conversions?
Our service department technicians have 80+ combined years of experience. Above all, proper care extends the life of any vehicle so additionally we offer advanced techniques and cutting-edge diagnostics to service your bus needs.