Used Passenger Buses For Sale – TEMSA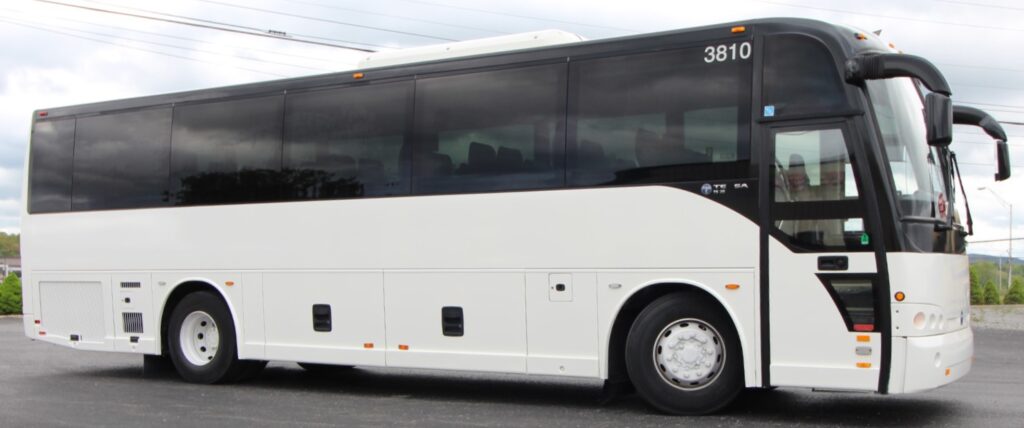 What Do Temsa Buses Offer?
We specifically offer Temsa TS35 mid-sized buses. These buses are equipped with:
Restrooms: Going on a long road trip? With on-board restrooms, you won't have to spend valuable time at rest stops. Instead, your guests can conveniently use the restroom whenever they need to.
Video monitors: Help guests stay entertained and informed with video monitors. Whatever you prefer to screen – vital information or a selected movie – you have the equipment to do so.
Luggage areas: Temsa buses offer both under-the-bus and overhead luggage areas. That way, guests can safely store non-essentials away while also having essential items nearby.
Seat belts: Make sure your guests are safe and secure with quality seat belts.
Technology: Want to make sure guests have access to electrical power? Temsa's 110V outlets allow them to browse the internet, check email, or scroll through social media.
All of these features combined with the spaciousness of each Temsa bus allows for an enjoyable and fun bus ride.
How Can We Help?
We want to be your one-stop shop for used passenger buses. We know that transporting large groups of people can be tricky, so we want to meet your transportation needs as easily as possible. With our large range of buses, we know that we have what you're looking for.
If you have questions about any of our Temsa buses, we're ready to answer them! Please see what Temsa buses we have below to discover what each one offers. Please call us at 540-394-8000 to get started today.