Quality Preowned Prevost Buses For Sale
Prevost buses are rated superior in class. Consequently, they are one of the most popular bus choices in North America and around the world. Sawyers Bus Sales has quality pre-owned Prevost buses for sale and therefore can certainly help you into the Prevost to fit today's bus needs.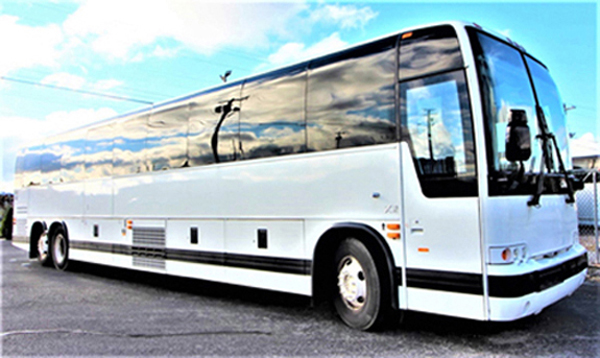 Prevost Buses For Sale For Large Group Transportation
Because Prevost buses boast a comfortable, yet elegant, ride they are a popular choice for VIP transportation. Along with comfort & style, Prevost buses are also a dependable option. The bus features below help you ensure that your passengers will be comfortable and content during their time on the bus and truly enjoy the bus ride. Our Prevost's offer:
Series 60 Detroit Diesel engines
Allison B500 automatic transmissions
Restrooms
Overhead luggage racks
30 – 56 passenger seats
CUSTOM BUS OPTIONS
We have multiple Prevost buses for sale with 56-passenger coach seating. We also build custom bus conversions to give you the exact seating configuration for your particular design. Above all, your clients will be happy you chose a Prevost bus.
BUS EXPERTS
Our technicians can install multiple options for your convenience, including:
110V outlet installation for passenger's electronic power needs
Cosmetic refurbishments: Seats, sidewalls or headliner fabrics, flooring designs, etc.
Mechanical upgrades
Whether you want to design the bus to reflect your team's colors, or install outlets so your VIP clients can charge their devices while traveling, our expert team will work with you to customize your bus to your specifications to accomodate your client's requirements.

We have been in the bus business for over 30 years. We are a family-run company, and we believe in giving you amazing customer service in a no-pressure buying environment. Whether you're searching for the best charter buses or the best bus for church groups, we can help your organization into the best bus for your transportation necessities.

Our certified technicians will be happy to help you before, during and after the sale. With Sawyers Bus Sales, you can rely on our expertise and service to make sure you are happy with your bus purchase. We do everything we can to give you the best quality buses for the best price as well as providing the friendliest service in the business.
PREVOST BUS CONVERSIONS
If you want to ease your transportation challenges and have us customize a bus for your unique bus conversion requirements, don't hesitate to call 540-394-8000 for more information about our Prevost buses for sale. Also "Like Us" on Facebook for information about upcoming sales at https://www.facebook.com/SawyersBusSales. Whether you need just a large people-mover or leather seating for your mobile doctor's office, we'll help you find the right bus and build the custom bus conversion to meet all your traveling needs – in style.